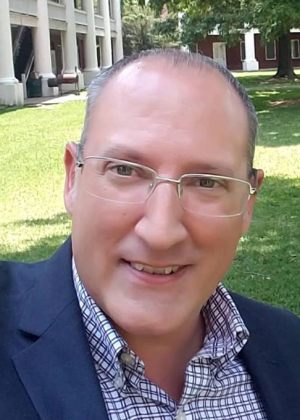 Nov 8, 2018
When I became Marketing Director for Teche Action Clinic, I was given the task of maintaining and building upon our health center's brand. After working on various projects with some of our community partners such as Pennington Biomedical Research Center, the LSU Health Sciences Center, and Fit, Fun & Fabulous, we turned our attention to a potential partnership with A.T. Still University.
A.T. Still University (ATSU) is the founding institution of osteopathic healthcare, established in 1892 by Andrew Taylor Still. As a leading health sciences university, ATSU is comprised of two campuses (Kirksville, MO and Mesa, AZ) on more than 200 acres with six prestigious schools.
ATSU learning environments include residential and online healthcare related graduate degrees as well as community-based partnerships worldwide. ATSU has an average annual enrollment of over 3,100 students from 35 countries. As part of the Hometown Scholars program, NACHC has partnered with A.T. Still University (ATSU) to identify and train high-quality healers who are committed to serving in America's Community Health Centers.
This partnership aims to recruit physician, dentist, and physician assistant applicants from populations served by Community Health Centers. ATSU has truly answered the call to meet the needs of Community Health Centers by identifying, attracting, and educating dedicated, motivated, and qualified community-minded healers.
After exploring avenues for partnership, our Board of Directors and CEO, Dr. Gary Wiltz, quickly decided that Teche Action Clinic would be well served by inviting students from ATSU to learn more about our health center and the communities we serve.
Upon acceptance into the program, our delegation of ATSU students were overseen by our Chief Medical Officer, Dr. Ronald Marts, Executive Assistant, Diane Freeman and myself. We were tasked with not only ensuring that our students continued to adhere to their medical education and curriculum, but also with educating them on the mission of Community Health Centers. We are not any old medical clinic, rather we hold great responsibility in ensuring quality, affordable healthcare is accessible to every member of our community.
My task, more specifically, was to make sure they understood the most important factor of community care: community involvement.
To truly understand the health factors of one's community you must become one with the community. You must see firsthand the factors driving health behaviors to truly understand the social determinants of health our patients are facing.
As soon as the first week of their arrival, we showed them around each of our health centers and completely immersed them in our communities. I was determined to show our "Fab Five," (our five inaugural ATSU students being from Oregon, Minnesota, Arizona, Illinois and Louisiana) our culture and how it impacts our communities' health outcomes.
Where did we begin? In Franklin, we traveled down one block were we have Antebellum and Victorian style homes and the very next block where people lived in shotgun-style homes in very impoverished areas. We traveled further "down the bayou" where people lived in houseboats, mobile homes, and campers. We showed them that, aside from our Teche Action Clinic, access to healthcare is very limited in our rural part of the state.
We took them to eat the foods our patients eat! I always ask the students if they remember the "Freshman 15" and then I tell them to be aware of the "Louisiana 30" - which they understood immediately after their first taste of Cajun/Creole food!
They quickly began to understand the many factors that led to our communities suffering from high blood pressure, high cholesterol, hypertension, heart disease, and so on. So by the time they joined our providers and saw their first patients, they had a good sense of the socio-economic and cultural factors our patients face on a daily basis.
Over the course of a year, they performed clinical rotations within our clinic and local hospitals. They saw a variety of different patients and health conditions. They thrust themselves into our community and became part of that community. They became recognized as part of the Teche Action Clinic family and many times received gifts, invites to cookouts, and even wedding invitations just as our providers often do. They attended our festivals and events and truly fell in love with, not only the patients they serve, but the community as a whole.
We are proud to know that we are helping the medical community throughout our nation in our commitment to help ATSU further the medical education of the next generation.
Being able to retain a student that now helps us run the program was a bonus for us. Mrs. Eden Etcheverria, being one of the "Fab Five", is currently overseeing our ATSU partnership for Teche Action Clinic along with Dr. Marts, Diane, and myself.
It truly takes the entire organization from front desk, IT, senior management, to our providers to ensure the program's success. Taking the trip to Arizona every August to watch our students take that final step by getting hooded at graduation and seeing the joy in their families' eyes first hand is the ultimate payoff. No matter where they choose to practice, we know that these young adults will always have a love for Teche Action Clinic and our patients in South Louisiana.
Our partnership with ATSU and our mission to mold the next generation of leaders truly says a lot about our Community Health Center. We strive to live up to our Community Health Center's middle name, "ACTION!"
---
About the Author
Ed "Tiger" Verdin
currently serves as Marketing Director for Teche Action Clinic. For over 5 years, he has been involved in health center branding and community outreach.
Aside from his work with Teche Action Clinic, he sits on several Boards and Committees: Teche Theatre for the Performing Arts, Fit, Fun & Fabulous-Louisiana's First Health & Wellness Festival, St. Mary Parish Chamber of Commerce, St. Mary Parish Council on Aging; Houma-Terrebonne Chamber Development Committee, Rotary Club of Franklin, Leadership St. Mary. He is also employed by the New Orleans Saints Entertainment Division.
Tiger is a nationally recognized playwright and was recently accepted into the Dramatist Guild of America based in New York City, member of the Playwrights' Center in Minneapolis, Minnesota and Gulf Coast Playwrights in New Orleans, LA.
Learn more about Teche Action Clinic.
Previous
Next