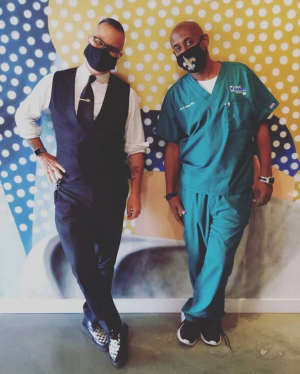 Jul 1, 2020
Pictured above: Dr. MarkAlain Dery & Dr. Eric Griggs
Blog post written by: Graham Patterson & Celeste Jupiter
Working on the front lines of COVID-19, infectious diseases specialist, Dr. MarkAlain Dery, and community health expert, Dr. Eric Griggs "Doc Griggs" observed that other healthcare professionals, as well as lay people, were getting lost in both the bulk and complexity of the COVID-19 information they were confronted with. Instead of feeling empowered, people were feeling confused, frustrated, and in the worst instances were taking actions that endangered themselves and their loved ones.
In response, these two friends and colleagues decided to create the NoiseFilter Podcast, a place where anyone can spend ten minutes a day and receive the COVID-19 updates they need to keep themselves and their loved ones healthy.
The doctors and their team of health specialists sort through the news, medical journals, and latest studies with the goal of distilling the most important information and delivering it in clear, bite-sized chunks.
Dr. MarkAlain Dery has extensive experience responding to global disasters and viral outbreaks, including as a medical responder to catastrophes such as Hurricane Katrina, the 2010 Haiti earthquake, and most recently working as a clinical epidemiologist for the World Health Organization (WHO) in Sierra Leone during the Ebola outbreak. Throughout his career, Dr. Dery has advocated for healthcare for all, prompting him to found the community radio station
102.3FM WHIV-LP
, radio dedicated to human rights and social justice.
Dr. Eric Griggs ("Doc Griggs") is a New Orleans-based health literacy educator and community medicine doctor who has dedicated his professional life to raising health awareness in communities across the United States. Doc Griggs prides himself on his ability to clearly communicate the sometimes complicated topics within health and healthcare, a skill which is especially beneficial in the oftentimes confusing era of COVID-19.
Combining their shared advocacy for public health, these passionate doctors have established three overarching goals for the daily NoiseFilter podcast.
First, they want to take the overwhelming amount of new COVID-19 related content, and filter out anything that is insignificant. They do this with the help of eight volunteer writers/editors, a team made up of public health professionals as well as other doctors.
Their second goal is to take the important, but often complicated and potentially confusing scientific data, and explain it to people in clear terms that avoid jargon. In fact, Doc Griggs is oft quoted as saying that COVID-19 is both a public health emergency and health literacy disaster - a void which NoiseFilter aims to fill.
Their third goal is to combat the widespread misinformation in the media and other public platforms. This misinformation often travels quickly, posing harm to the safety of the public.
COVID-19 has impacted the entire world, and news about it is often heavy, so interlaced with these goals the doctors try to sprinkle in humor and silver lining stories to help bring a sense of calm to an otherwise stressful situation.
While neither of these doctors had previously created a podcast, they stated that after an initial learning curve and with the right team, it wasn't out of the reach of almost anyone. Some important steps if you're interested in starting your own, they shared, are investing in good audio equipment, defining a voice for the show from the very beginning, and working with a team of volunteers, because it's a large undertaking. A daily podcast is an ambitious place to start, and if it wasn't the middle of a pandemic they would suggest beginning slowly, with a weekly or monthly show.
The NoiseFilter Podcast
can now be found on almost every podcasting app and website, including on
Apple Podcasts
and Spotify.
Shows are also aired daily on Pacifica Radio, a network of 200+ radio stations across the United States. Between these, they estimate their daily audience to be in the tens of thousands.
Dr. MarkAlain Dery and Doc Griggs ask that you check them out on your favorite podcasting platform, and subscribe in order to never miss a new episode, thus ensuring you're getting the COVID-19 updates you need to stay safe and healthy during this pandemic.
You are also welcome to submit your own COVID-19 questions during their live NoiseFilter Show, which takes place from 4:00PM - 4:30PM Monday through Friday and is live streamed on their Facebook sites (
@doctordery
and
@getcheckedgetfitgetmoving
), as well as on the
Access Health Louisiana Youtube page
.
You can also follow along on their
Instagram
and
Twitter
accounts.
The doctors thank Access Health Louisiana and the AIDS Education and Training Center (AETC) for the funding which makes this show possible.
Previous
Next