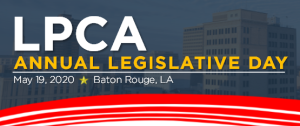 LPCA Annual Legislative Day 2020
May 19, 2020
Save the Date: You are invited to join us on Tuesday, May 19th!
For over 35 years, the Louisiana Primary Care Association has worked to advance the interests of Louisiana's Community Health Centers and advocate on behalf of Louisiana's medically underserved communities. As the voice of Louisiana's CHCs, we work hard to educate our state and federal policymakers on the issues that matter most to our members.
LPCA's Annual Legislative Day allows Community Health Center leadership, staff, board members, and advocates the opportunity to gather in Baton Rouge and show their support for the Health Center Program and our collective mission to bring affordable, quality healthcare to every patient in our state.
---
WHAT:
LPCA Annual Legislative Day 2020
WHEN:
May 19, 2020 | 10:00am - 5:00pm
WHERE:
Claiborne Conference Center (1201 N. Third St., Baton Rouge, LA)
REGISTRATION COST:
Free
Detailed event agenda and registration coming soon!
---
Health center advocates will get the latest updates on:
the 2020 Legislative Session
an update from the Louisiana Department of Health
Louisiana's Medicaid program
several other topics that are most important to Community Health Centers and the 444,000+ patients they serve.
Our day will begin with a slate of speakers at the Claiborne Conference Center (Louisiana Purchase Room). After lunch, our program continues in the 4th Floor Press Room of the State Capitol where we'll hear directly from legislators.
This event is open to Community Health Center CEOs, administrators, clinicians, staff members, board members, and non-profit community partners.
Can't make it? You can still follow all the action on
Facebook
and
Twitter
!
Questions? Interested in serving as a sponsor?
Contact Ryan Sinitiere at
rsinitiere@lpca.net
or (225) 927-7662, ext. 210.
Next