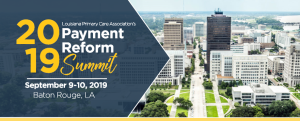 LPCA Payment Reform Summit
Sep 9, 2019 - Sep 10, 2019
Health care delivery systems and payment models are transforming rapidly to try to improve the patient experience and population health while reducing overall system costs. For health centers, this can encompass all of the activities designed to best align health center payment with practice transformation – allowing health centers to sustain their critical mission to provide high quality, cost-effective care to all who need it while working to become the provider of choice in their communities.
Join us for a Louisiana Payment Reform Summit to hear more about how we can together engage in new and innovative payment reform considerations and their impact on how health centers deliver care in Louisiana. Making sound decisions within our state to achieve positive impact will require an understanding around both how healthcare is reimbursed and how healthcare is delivered. An understanding of the national and state healthcare payment reform and practice transformation landscape is essential for FQHCs functionality.
WHAT:
LPCA Payment Reform Summit
WHEN:
September 9-10, 2019
WHERE:
Crown Plaza Executive Center | Baton Rouge, LA
AGENDA:
Agenda Coming Soon!
COST:
$250/participant
CLICK HERE TO REGISTER
Registration LIMIT: Register up to (2) individuals (CEO, CFO, COO, etc) per FQHC/Lookalike Member.
This 2-day summit will provide a deeper understanding into these elements. Some of the topics of discussion include:
Adam Falcone: Feldesman, Tucker, Leifer & Fidell, LLP:
Prospective Payment System (PPS) – Legal Review of Louisiana's Medicaid Manual and PPS Rate Setting Process
Curt Degenfelder Consulting, Inc.:
Louisiana FQHC Financial Considerations: PPS Rate Methodology and Rebasing
Craig Hostetler, Hostetler Group:
Setting the Stage for Value-Based Payment (VBP) and Capabilities FQHCs Need to Be Ready
Utilizing an FQHC Capitated APM to Build Capabilities in VBP
Steven Smith, BKD:
Payment Reform: Shifting Towards VBP/Alternative Payment Models – Accounting Perspective
Andy Principe, Starling Advisors:
Clinically Integrated Network – Aligning APM Landscape for CIN Success
Hotel Accommodations
For registrants seeking hotel accommodations, LPCA has a room block at the Crowne Plaza Executive Center in Baton Rouge.
Click here to access LPCA's room block.
Reservations can also be made by phone at: 225-925-2244.
Next