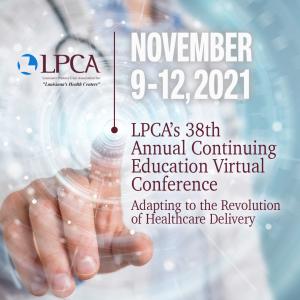 38th Annual Continuing Education Virtual Conference
Nov 9, 2021 - Nov 12, 2021
The Louisiana Primary Care Association's Annual Continuing Education Conference is the organization's largest event of the year, providing attendees with fresh educational content, abundant networking opportunities, and access to cutting-edge expertise.
This annual event gathers Community Health Center professionals, board members, clinical providers, and community partners from across the healthcare spectrum to discuss issues relevant to Community Health Centers and the patients they serve. This conference is open to all organizations and individuals who have a stake in the Community Health Center movement and share our passion for making affordable, quality healthcare accessible to every citizen in Louisiana. Continuing Education Units (CEUs) will be offered.
WHAT:
LPCA's 38th Annual Continuing Education Virtual Conference
WHEN:
November 9th to November 12th, 2021
WHERE:
Virtual event
Join us as we provide educational sessions and new content on:
"Adapting to the Revolution of Healthcare Delivery"
Learn more about our conference on our Annual Conference webpage.
Next