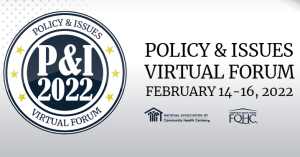 NACHC's Policy & Issues Forum 2022
Feb 14, 2022 - Feb 16, 2022
Every year the NACHC Policy & Issues Forum (P&I Forum) draws thousands of Community Health Center professionals and leaders in one of the largest national conferences focused on primary care and health policy. Clinicians, executives, administrators, consumers, board members and advocates from all over the country assemble to dialogue and meet with their lawmakers on Capitol Hill. They bring with them a long history of bipartisan support based on significant achievement as the largest primary health care network in the U.S.
The 2022 Policy & Issues Forum will be held virtually.
Find more information on NACHC's website.