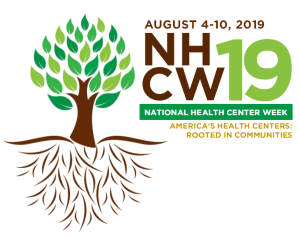 National Health Center Week 2019
Aug 4, 2019 - Aug 10, 2019
National Health Center Week (August 4th-10th) is an annual celebration with the goal of raising awareness about the mission and accomplishments of America's health centers over the past five decades.
Health centers serve 28 million patients – a number that continues to grow along with the demand for affordable primary care. In addition to their long history as health care homes to millions, health centers produce innovative solutions to the most pressing health care issues in their communities and reach beyond the walls of conventional medicine to address the social determinants of health affecting special patient populations. Each year we celebrate the work and services health centers provide to special populations within their community on designated days during the week.
This year, the National Association of Community Health Centers, the Health Center Advocacy Network, and the Louisiana Primary Care Association invite you to celebrate the ways that health centers are "Rooted in Communities." We all know that, so often, the work of Community Health Centers extends well beyond the walls of the clinic. Health centers are woven deep into the fabric of communities. They are engaged in community service and outreach - ensuring no one gets left behind!
Learn more about National Health Center Week.
Our goal for this year's National Health Center Week (NHCW19) is to launch a coordinated communications strategy that will help us maximize media outreach and increase public awareness. We've designed a Marketing & Communications Toolkit with your needs in mind! You are tasked with dozens of responsibilities at your health center - we thought we would save you some time and provide you with the templates and graphics you need to spread the word about NHCW19.
Now Available:

NHCW19 Marketing & Communications Toolkit
Download editable NHCW19 templates & social media graphics.
Next