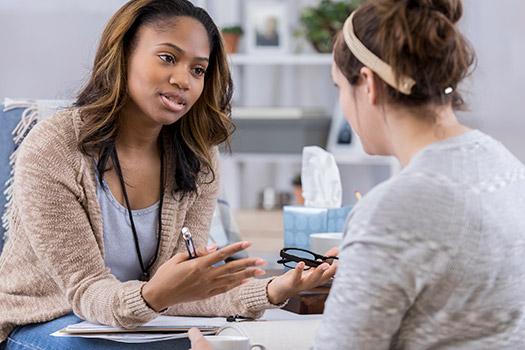 The Louisiana Primary Care Association and Louisiana's Community Health Centers understand the importance of providing access to mental healthcare. Unfortunately, in many parts of our state, there are few, if any resources that people can count on when experiencing a mental health crisis.
As of 2016, roughly 45,000 Americans have lost their lives to suicide and this number has steadily increased over time. In Louisiana alone, at least 677 deaths have been attributed to suicide. With recent high profile celebrity suicides and a renewed focus on the importance of mental healthcare, our organization is focused on educating participants on the importance of early intervention. Acquiring the skills needed to identify risk factors and detect warning signs is key to preventing tragedy.
Did you know: Suicide is the 10th leading cause of death among Americans?
Mental Health First Aid is a valuable resource that can make a difference in one in five Americans living with mental illness and addiction, including those experiencing suicidal thinking. The Mental Health First Aid Course, facilitated by representatives from LPCA and AmeriHealth Caritas Louisiana, educates participants on the symptoms of depression, anxiety, psychosis, and substance use disorders. Each section is introduced and explained followed by instruction on how to help individuals experiencing a crisis.
Individuals trained in MHFA can help to:
Break down bias and reach out to others suffering in silence
Let individuals know that support is available and where to find it
Provide community resources and make behavioral healthcare more accessible
---
Do you know someone who could be suffering from a mental health crisis?
We encourage you to access some of the resources outlined below:
Local Resources:
NAMI Baton Rouge (10842 Ranchwood Drive, Baton Rouge, LA 70815)
Mental Health America of Louisiana (5700 Florida Blvd, Suite 901, Baton Rouge, LA 70806)
Important things to note about the recovery process and the different types of recovery:
Hope:
It is important to instill hope in those working towards recovery.
Non-linear:
Recovery is non-linear, certain steps will be skipped and in some cases, there will be setbacks. No steps are necessarily bad, but each is part of the recovery process.
Strength-based:
It is important to focus on one's strength instead of what they may be lacking. Individuals struggling with mental illness are not broken and do not need to be fixed and as such recovery should be focused on building up one's strength.
Peer Support:
Peer groups are a great way to interact with individuals dealing with similar issues. Participation in peer groups has been shown to reduce feelings of isolation and as such is an important part of recovery.
Self-direction:
Recovery is a process that must be directed by the individual, who defines their own limits and goals through a unique path.
Responsibility:
Everyone must assume responsibility for their own self-care.
Holistic:
Type of recovery that focuses on an individual as a whole, this includes mind, body, spirit, and community. Multiple layers are affected by mental illness and as such, it is important to take into account the damage.
Individualized and person-centered:
One size does not fit all, treatment/recovery differs from person to person.
Empowerment:
The individual dealing with distress has the right and authority to choose from various options and take an active role in their choices.
Respect:
It is important to respect those who are in recovery, including protecting their rights and eliminating stigma regarding their illness.
Non-judgmental:
It is extremely important to disregard all previous stigmatizing notions about mental health in order to effectively offer help to an individual in distress. Avoid premature conclusions, and show the individual that you are listening non-judgementally.
Very important! Be sure to follow these rules:
1. It is important before interacting with any individual expressing distress to assess the situation. Is there a risk of suicide or harm?
2. Listen to individual non-judgmentally, be sure to control any non-verbal behaviors that may give the impression that you are not listening or uncomfortable as it can make the situation tenser.
3. Give the individual reassurance and information, it is important NOT to provide advice. Advice is subjective whereas information is objective and provides the individual with the information they can apply.
4. Encourage appropriate professional help by citing medical professionals who would be of use or peer groups that can provide support.
5. Encourage self-help and other support strategies, such as community members, family, and friends.