Operating a Community Health Center and having an impact on the lives of patients is truly a rewarding experience, but it isn't always easy!
From managing employees and providers, to complying with regulatory requirements, and preparing for Operational Site Visits, running a Community Health Center can be challenging – and the environment in which we work in is constantly changing!
We are not interested in only meeting requirements. We want to assist our members in taking their health centers to the next level!
To request technical assistance, please sumbit your request through our online form.
---
Technical Assistance
Feasibility Study
A feasibility study is performed by LPCA staff to determine likely costs and profit/loss of a future Federally Qualified Health Center. The study calculates potential income and expenses for one year of daily operations, based on relevant factors such as population, staffing and salaries, billing and collections, variable and fixed costs. Numbers used are either existing clinic data that the client provides or data we determine from the number of encounters, costs, and collections based on population. Information from a feasibility study informs the client of the positive and negative outcomes before investing a considerable amount of time and money into a project.
LPCA will not provide recommendations for funding sources to pay for the health center proposed in the study.
The feasibility projections provided will not provide estimates of the cost of building a new building. The feasibility study only considers costs associated with daily operations.
Analysis will not include estimate of legal fees that may be associated with establishing a new clinic.
Estimate of need and feasibility will not be based on burden of disease but rather by population demographic data and current community health center penetration.
Needs Assessment
A healthcare needs assessment looks at an area of a city, parish, region, or state that identifies gaps in serving that population, based on indicators that include:
Race
Poverty
Years of Potential Life Lost
Uninsured Population
HIV / AIDS
Emergency Department Utilization
Cancer Mortality
Heart Disease
Obesity and Diabetes
Hypertension
Smoking
Healthy Food Access
LPCA researches current indicator data in a given area to identify and quantify gaps in healthcare. The gap is measured by contrasting it to the surrounding areas. Financial feasibility studies are done, including a comparison between a fee-for-service clinic and one that is deemed a Federally Qualified Health Center or Look-Alike.
The report includes:
Executive Summary
Report

General indicator data for area
Breakdown of area by zip code:

Population
Major health indicators
FQHCs in the area; study outcomes, including health statistics found for area studied (and comparative study, if used)

Access Gap, including current number of providers for the population and recommended number of providers for the population
Reasons for Gap
Bridging the Gap (types of medical clinics to consider, i.e., fee-for-service, look-alike FQHC, fully-funded FQHC)
Explanation and comparison of proforma feasibility studies for each clinic model for each area studied (by zip code or parish)
Summary of findings and impact
Clinic Operations Assessment
Provides an overview assessment of a specific area of your clinic or of your clinic overall, which includes an executive summary, a description of the methodology undertaken to complete the assessment, and a report describing concerns, data analysis, and recommendations for improvement.
Other LPCA Technical Assistance
CMS Emergency Preparedness Mandate Technical Assistance
Patient Centered Medical Home (PCMH) Technical Support
Billing and Collections Technical Support
Audit/Processes – Billing
Mock Operational Site Visit
Workforce Recruitment and Retention
Strategic Planning
---
Trainings
Board Governance
Operational Site Visit Preparation
Culture Sensitivity
Customer Service
AQ-QI/PDSA
Provider Recruitment/Onboarding/Off-boarding
CMS Emergency Preparedness Requirements
How to Complete Hazard Vulnerability Assessment
How to Create Your Plan
---
Credentialing
https://www.eddynow.com/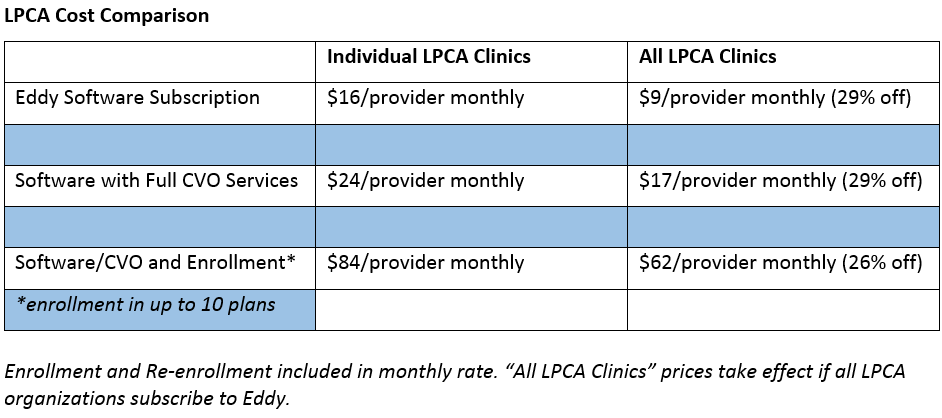 ---
Technical Assistance Form
Please use the
Technical Assistance Form
to request the following:
Feasibility Study
Needs Assessment
Clinic Assessment
Job Listing
Mock Operational Site Visit by LPCA team prior to HRSA Operational Site Visit
Trainings

Billing and Collections
Front Desk
Recruitment and Retention
Emergency Preparedness/Management
Operational Site Visit Preparation
Clinical Staffing